by Mountain Lion on 22 November 2018 - 15:11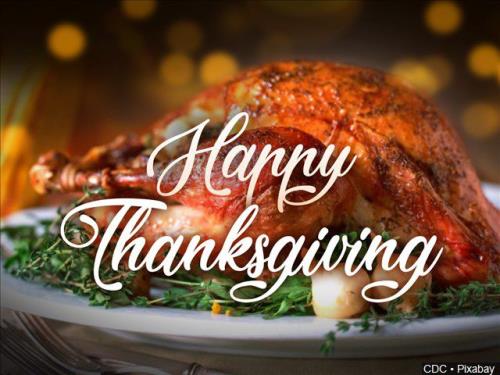 by Vito Andolini on 22 November 2018 - 15:11
U2
Looks delicious. Turkey and Romaine lettuce
by joanro on 22 November 2018 - 17:11
Recall on both recently. I'll pass and have locally grown and butchered beef.
by joanro on 22 November 2018 - 18:11
Vito: Joan
I'm calling BS on you! Not about meeting Little Michael, but about the only wooden Roller coaster. I believe Cedar Point in Ohio had one at that time. Think it was called the Blue Streak.


Well, that's very possible. But you know how hype is when it comes to advertising! That was the claim made by the park and back in those days...no google! Quite frankly, nobody cared enough to dispute the claim.

I think they claimed it was the tallest, also. Maybe google will give you the stats on that, as well?
So did you ride the ' blue streak' in 1980, and that's how you know about it? I never heard of it, but then again, I'm not a roller coaster afficianato.

At least there was something unique enough about the 'Roaring Tiger' that inspired Jackson's promoters to put the picture of it on his album. O:-)

It was a scary ride, the way it shook and rattled. I only rode it once in the two years I was there...once was more than enough for me. I rather ride a horse or bull where I have control, lol.
by Vito Andolini on 22 November 2018 - 22:11
Joan

Was just messing with you. Cool that you met MJ.

That RC at Cedar Point was opened in 1964 and has a height of 78 ft.
by joanro on 22 November 2018 - 23:11
O:-)
by joanro on 23 November 2018 - 13:11
Vito, being as you know all the stats about that Ohio ride, ( you didn't answer if you rode it) I was wondering if you know if it is still in place at cedar point or if it was sold....and if it was sold and moved, when?
by Vito Andolini on 23 November 2018 - 13:11
I rode it a few times as a kid. As far as I know, it is still there. When I looked it up, I didn't get any info if it not being still there. That park has added numerous RCs since then, but I believe it is still there.
by joanro on 23 November 2018 - 13:11
Thanks. I just did some google on it and the one at Circus World where I worked....having a cupa covfefe and you peaked my curiosity.
Never research this stuff before and was happy to find this video researching the coaster.
It's from 1982, the first year I was at the park. At the end of the video there are some clips from the wild west show.
Has some of the trick riding with a friend of mine, Dave S and me, on my Appaloosa horse, Tomoka. I did another act with him, high school horse.
That arena was very narrow and so the turn at the top of the ring was pretty sharp for trick riding horse to keep his balance and footing.
My horse fell on me at the top of the turn, one performance, while I was in the " death drag" ...I pulled myself up when my head touched ground a couple times, which saved me from having the horse fall on top of me.
Per the roller coasters: the one in Ohio was only a 90 second loop....the Roaring tiger was a full sized big ride. This video has quite a bit of it included.
by joanro on 23 November 2018 - 14:11
Here is the " Death Drag"
Circa 1976, Opening night at Pompano Race track...me and my horse, Chigger, trick riding down the track in front of the grand stands.
My trick riding partner at that time was my friend Eddie M, who came to the USA from Cuba in a skiff with the T-shirt and pants he was wearing.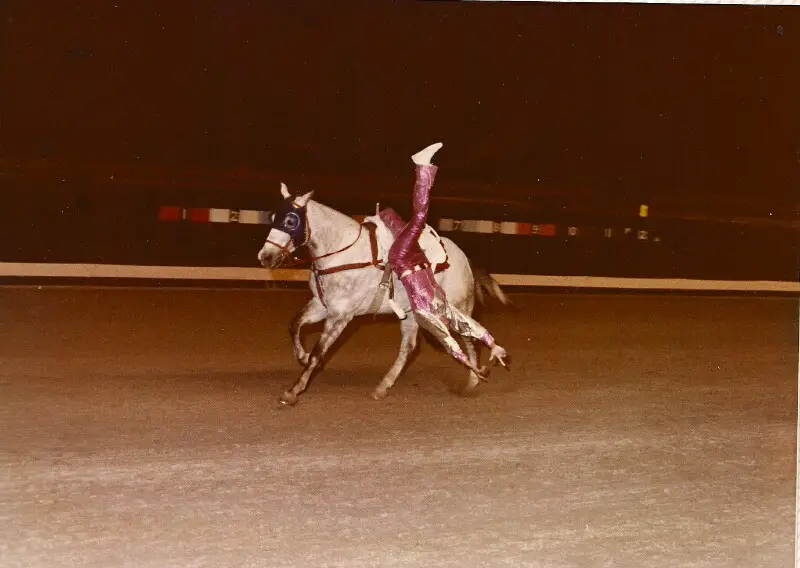 Chest stand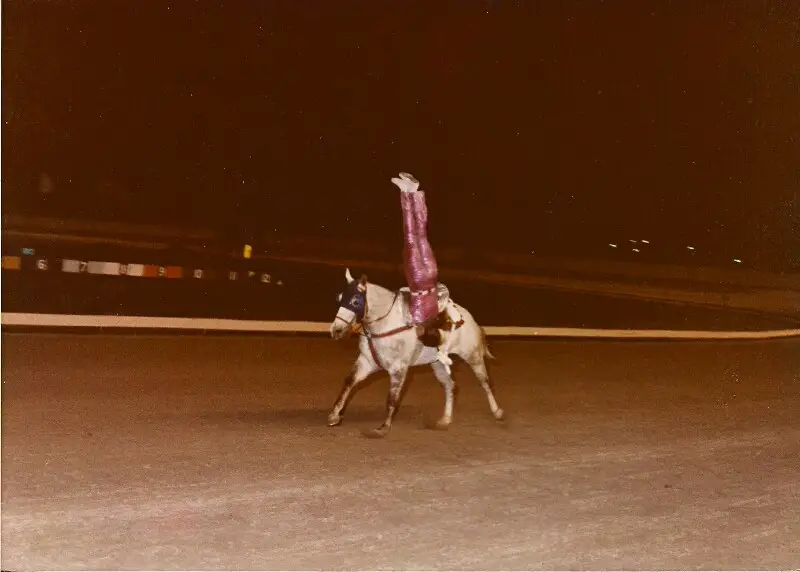 Tricks ar much easier to hold on a straitaway track!
---
---
Contact information
Disclaimer
Privacy Statement
Copyright Information
Terms of Service
Cookie policy
↑ Back to top