by Jessejones on 26 November 2018 - 18:11
Lordy, your pics are thrilling. Dumb word...but true!

Love how Sierra, the bull, is just looking left, looking kind of bored, while the paint just ran in and is rearing up on hind legs! 😂

So I am just overwhelmed when I think of how you did all this...and how organized you had to be...feeding-watering- training-health care....on top of everything, transport (!), cost of trailers and trucks and moving your big animals from A to B accross the country all season long! Did you have a partner or crew?

And not to mention your perfect posture in every pic. (ENVY)

by 1Ruger1 on 26 November 2018 - 22:11
Wow wee!!
Joanro you're quite the cowgirl ! And very pretty too!' ,,,,,,
I am jealous of your courage! I had very well trained pleasure horses and I was still a big chicken when they were fresh!
lol ,,,, Enjoyed the pics 😊

by mrdarcy on 27 November 2018 - 10:11
Agree with Jesse on everything!!! What an exciting fascinating life you have lead Joan and agree you must have turned many many heads, but don't tell my wife I said that, lol,lol. Hope you have lots more stories as I am thoroughly enjoying reading as I'm sure many readers are. Sure it was all very hard work but looks like it paid off. Amazing!!!!!

by Mountain Lion on 27 November 2018 - 22:11
Hi Joan,

I can't tell you how impressed I am after viewing your horse riding, training expertise etc.

The pictures are awesome. Must be very fond memories.

Keep them coming. please...

PS All along I was thinking you only trained Hoo-Fish, boy was I wrong...LOL
by joanro on 28 November 2018 - 00:11
Jesse, I'm glad you enjoy the pictures.
Sierra turning his head...nothing happening is random. I trained him to ' give me his face' during the hind leg walk because left alone, he would " hook" the paint when he got within Sierra's reach. So I would turn his head and drop the left rein over the saddle horn to keep him there.
I traveled by my self with my dogs and hoofed stock. I had an 24' aluminum trailer, (pulled with an F350 7.3liter diesel, 4 door dually) custom built to accommodate the big Brahmer. He had to be able to lie down while traveling if he chose to, so he had a stall jus for him.
When he was three years old, I was doing a show in Albany NY where they has a walk on scale for lvestock...he weighed 1800 pounds and was not yet grown! By the time he was eight years old, I had to retire him because he was too big to haul any long distances...it was hard on him. Anyway, all my animals I trained myself, by myself.
The black and white paint horses belonged to an old guy who hired me a year after I got out of the Army, to work them in shows...he could not ride them anymore.
The grey quarter horse I trick rode on was mine and the white Brahmer was mine. After four years, I took off on my own. All the care of the black and white horses, grooming, feeding, shoeing I did....plus changing flats on the trailer, and even changing out the bearings and brake shoes on the trailer:-D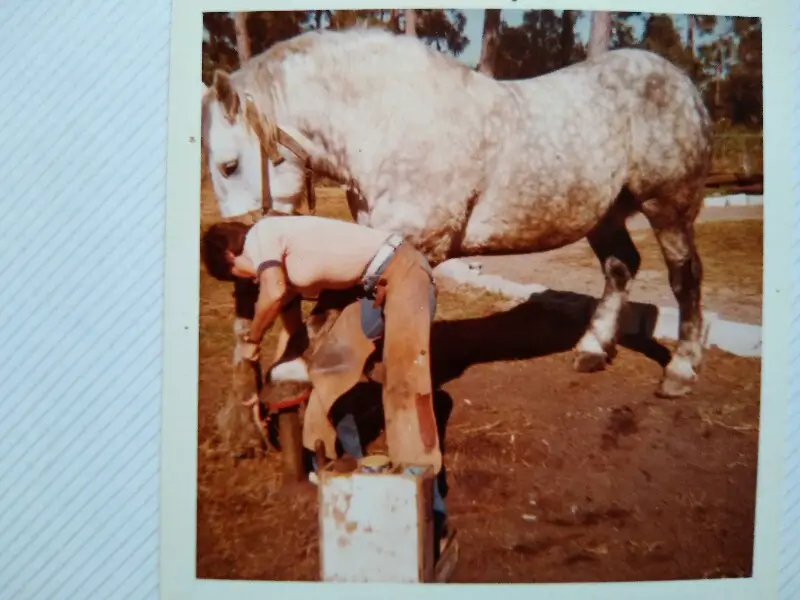 Shoeing the rosin back horse for Hanniford circus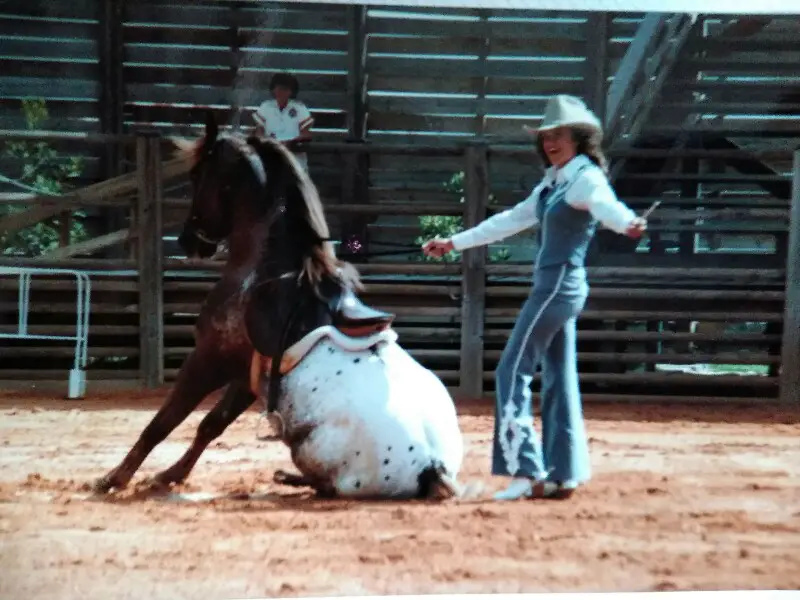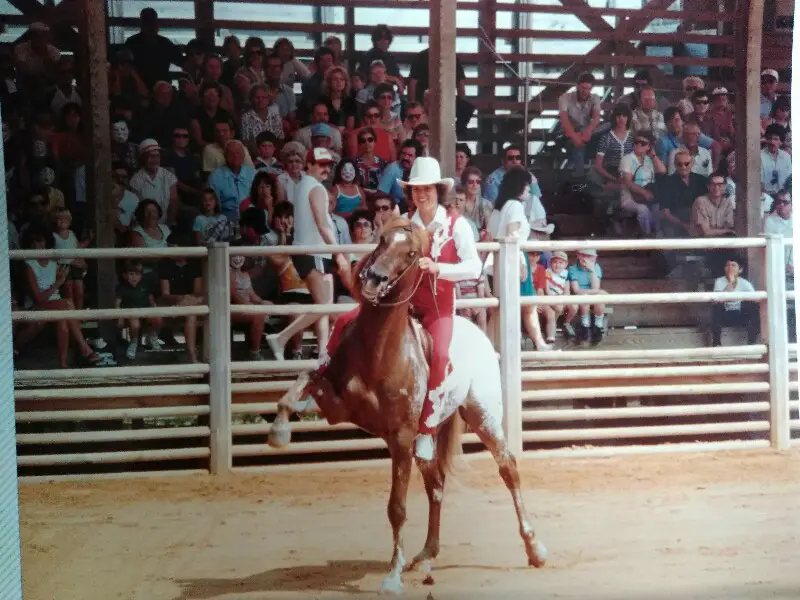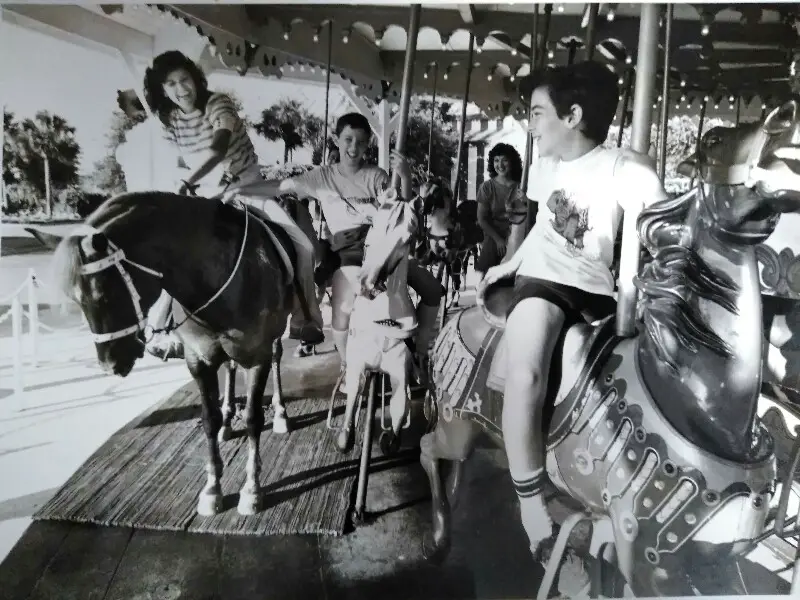 This was a beautiful merry go round at Circus World...this was a promotional thing for the park...they removed one of the horses and I walked Rocky up onto the wheel...he was a stallion and was actually sweet talking the merry go round horses...lol
by joanro on 28 November 2018 - 00:11
Ruger, thank you.
by joanro on 28 November 2018 - 00:11
Thank you, Mrdarcy. It was hard work, but hard work his good for the soul. O:-)

Mountain lion, I'm happy to share these very fond memories with you.


by Jessejones on 28 November 2018 - 01:11
OMG...the picture on the Merry-Go-Round!
Precious!
Let's see:

***Animal trainer/teacher
***Car/truck mechanic
***Farrier
***soldier

Well...I can only say one thing:
If I ever have to go to a deserted island and could only take one thing...I'd say "GET ME JOAN!"

by joanro on 28 November 2018 - 02:11
We lived on the keys when I was little, spent days on the ocean fishing. My brothers and I used to get 25¢ for cleaning big fish ( groupers and dolfin fish, etc)for the tourists.
So I'm good on a island O:-)
by joanro on 28 November 2018 - 16:11
This is the rosin back horse with the performers/ owners. This horse was foundered and very lame before I shoed him to help correct the malformed hoof. I am explaining the problem to the owners. The performers on horseback, were great acrobats on horse back, but we're notoriously not good horsemen. Safe to say hundred percent in all circuses/ venues.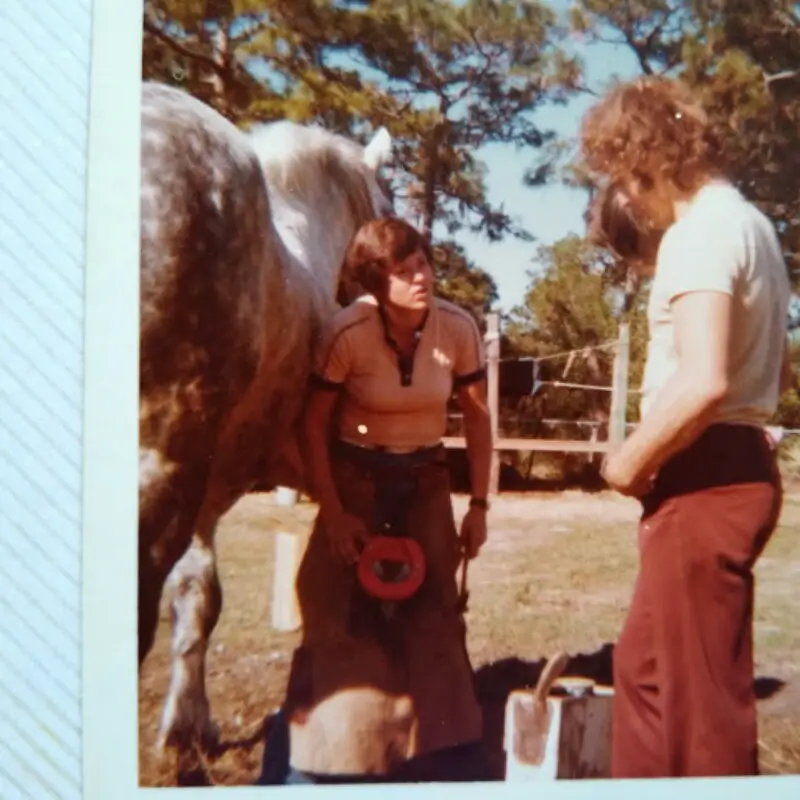 Applying rubber shoes to help absorb impack working on hard surfaces in buildings.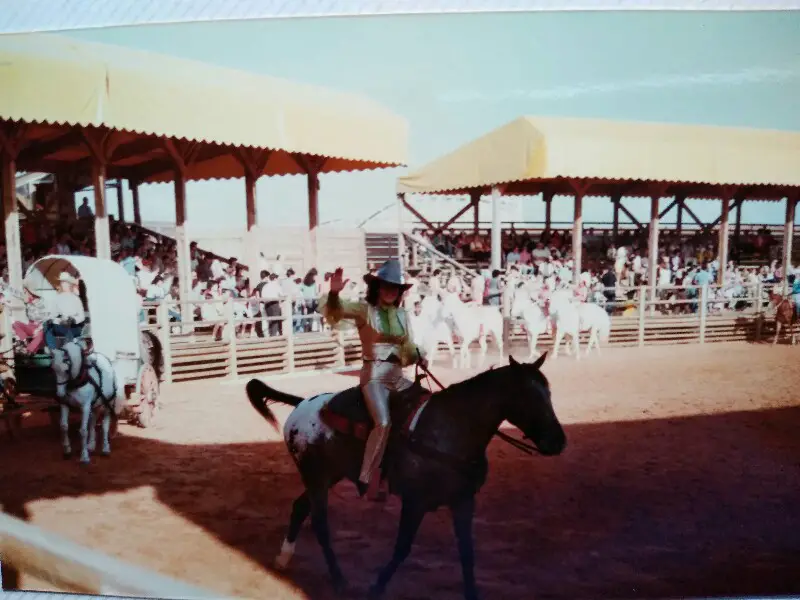 Grand entry for Great Western Stampede show at Circus World. That's me on the Tomoka. I started working there with him doing High School horse act and trained him to trick ride on him after I was hired. He belonged to some people in Bradenton who hired me to train him a year before I started working there.
I learned the park was taking auditions for the Western show, so I leased Tomoka from the owners for one year. I figured that's give me time to buy a horse and train for myself. I soon found Rocky, the other Appaloosa at a local cattle ranch. He was a ranch horse, still a stud and six years old. I paid asking price of $800 and had Rocky in the show doing high school act ( high schools horse= dressage plus much more) and trick riding on hm a couple months before the lease was up onTomoka.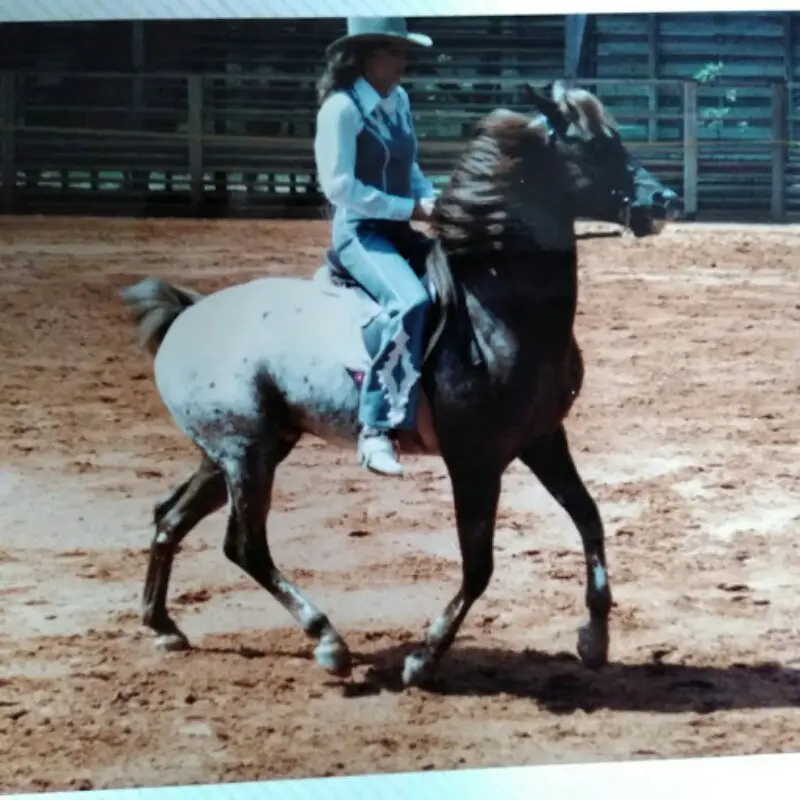 Rocky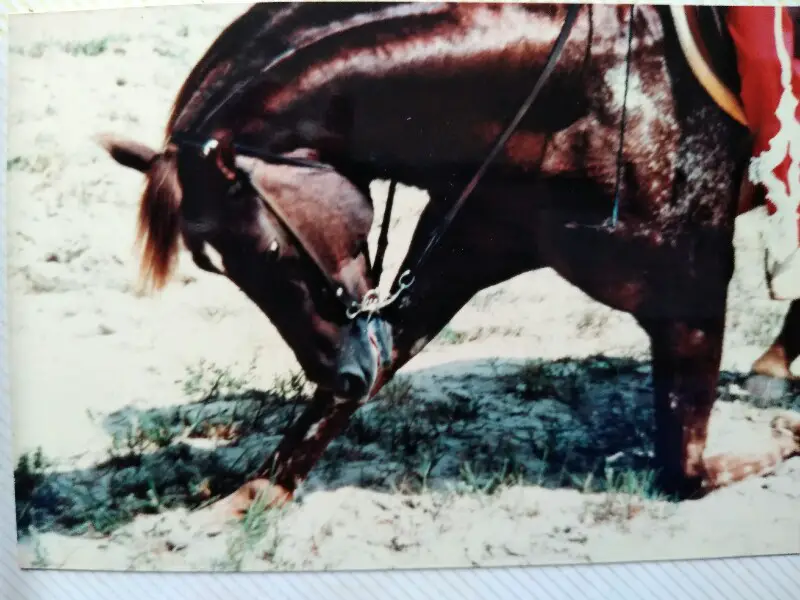 This picture was taken by Dr Schmit from Portland zoo in Oregon. He was at the park when we had multiple elephant births...he specialized in elephant reproduction. I was helping with observing and taking notes during labor, night shift, for Schmit as he had requested notes for research purposes.
Turns out he was an Appaloosa fan and gave me these pictures. This is out in the practice pen, where I worked Rocky for him so he could get pictures.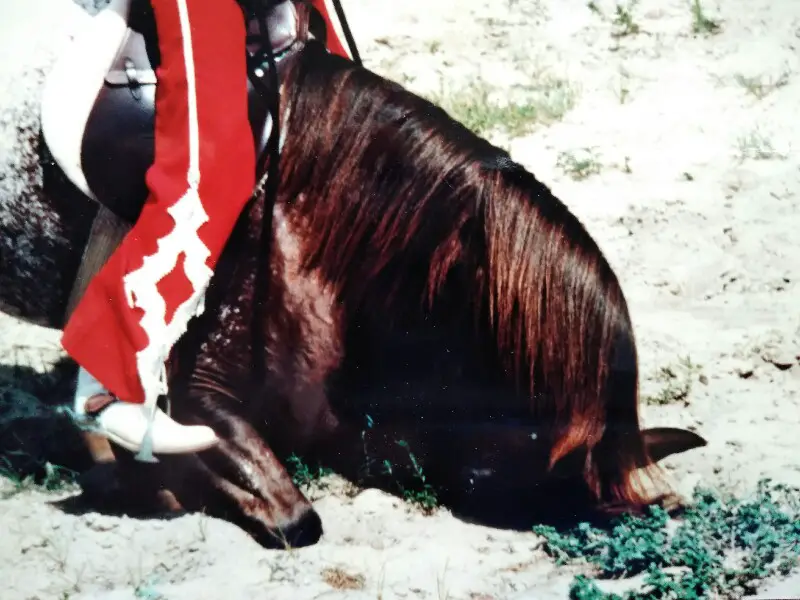 ---
---
Contact information
Disclaimer
Privacy Statement
Copyright Information
Terms of Service
Cookie policy
↑ Back to top