by joanro on 04 December 2018 - 00:12
They go to countries where they can get away with it.
by joanro on 04 December 2018 - 13:12
Getting away from the evil movie industry.....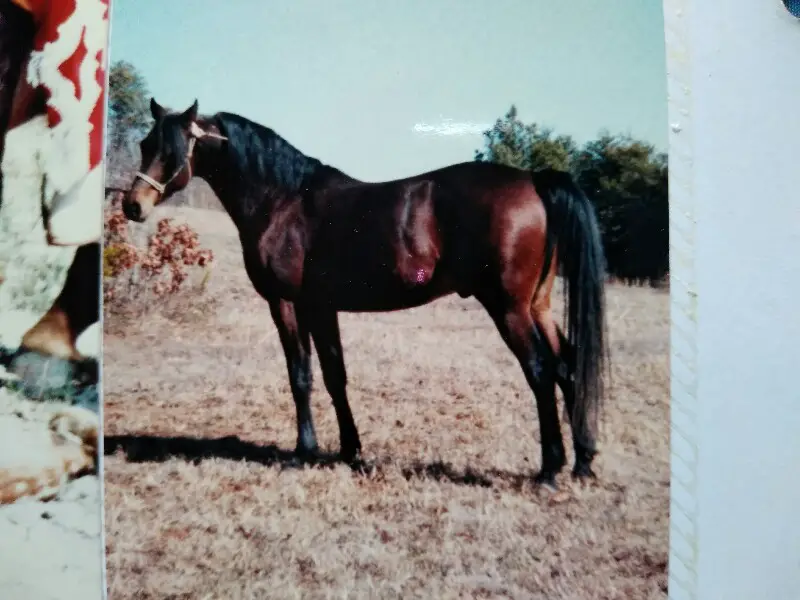 An Arab stallion I raised from a yearling and trained high school, used him in rodeos and at a park in Canada for a summer.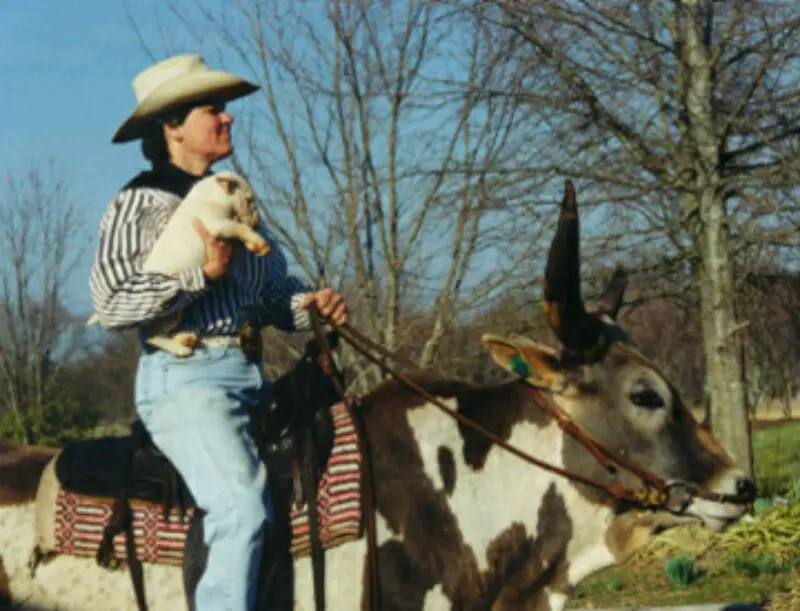 A watusi/ coriente cross....bought him from a rodeo stock producer in Chicago area. This steer had been a team roping steer and so when I got him, he had never had a halter on him and people were his enemy. He was probably was about a year old, as too little to ride yet.
Here he is with me holding a mini bull terrier named Ch Bodacious as a puppy. Friends who were mini bull breeders and I trailered Phoenix the steer over to their place for some fun.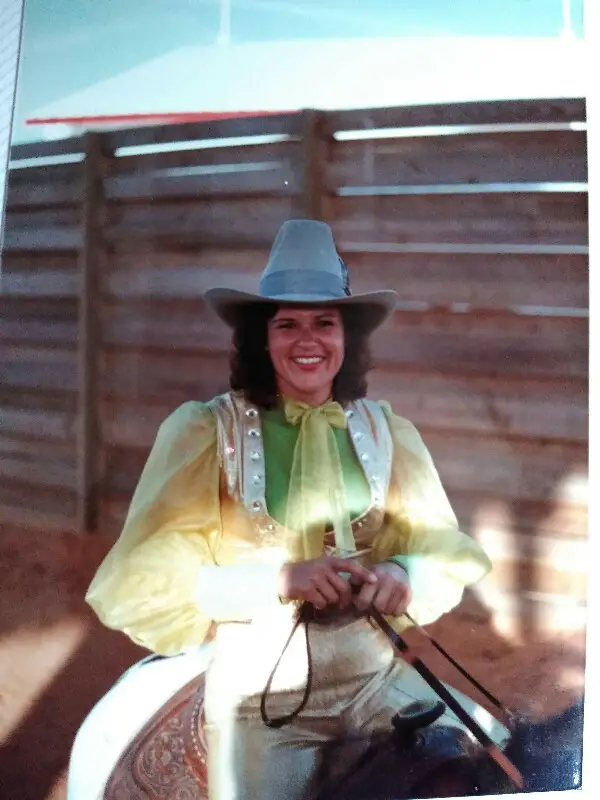 Me on Tomoka at Circus World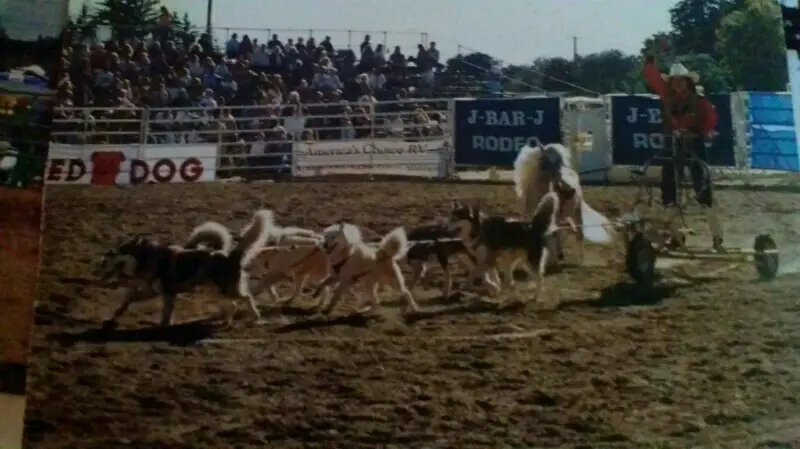 J_ J rodeo in Michigan. Splash, the pony, is still doing great....will be 35 years old this coming Janurary !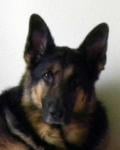 by Mindhunt on 05 December 2018 - 20:12
Joanro, Sage was NEVER a danger to anyone. He respected humans and listened well. He was incredibly gentle for a large as he was. I have no idea where the appaloosa coloring came from. He was gorgeous though. I gave a short list of his quirks, he had lots of interesting things he would do learned most likely from a previous owner (I was his 4th). He was very easy to teach and appeared to love to learn because when his "training halter" came out, he was all excited. The training was done with positive methods and trust building (or so the old trainer called it). We were in the mounted patrol a couple years and he was able to do so much and had the patience of a saint and was steady.
I had a friend that used to be a veterinarian on some of the shoots in movies using horses. He quit because at that time it was acceptable to go through horses and dogs and other animals by the dozens, I believe he lasted a few months. Running W's and Tippy Toes (a set up that allowed the rider to yank the off side legs out from under the horse, not sure how it worked but it was supposed to give the rider more control since so many were injured with the Running W's) were very common, especially when the opposing army shot into the charging horses and all would fall down at the same time (vet friend would go around and euthanize those too injured to go on). The trainer trained my horse to "fall" on command and I noticed he ALWAYS turned his head away from the direction of the fall.
by joanro on 05 December 2018 - 20:12
Mindhunt, I tried to get off the topic of moving " madness" with animals. Perhaps you can start a new thread on the topic because it is very much off topic on this tread. Plus it does not compare with anything I trained my animals for.
Mr Darcy asked me to start a thread with pictures of my trained animals....you are talking about stuff that has nothing to do with my animals.

As for your horse...I did not say he was dangerous ( but his size and power and hoofs are instrusically dangerous)......but for people reading who don't know how dangerous horses can be, you are giving very misleading information when it comes to horse behavior.....do not ever " play" with a horse as though it is a big dog...it is not a big dog and will cause horrible bodily damage...
Mindhunt, people get killed by weanling colts who have no respect for the human/ horse dynamics.
Maybe your horse was an exception, maybe you just got lucky and got away with playing with him before tragedy struck, but for people who don't know horses...you are painting a very dangerous picture of playing with a horse in the manner you described.
You insist on talking about animal abuse on here, please stop. This is not hte thread for your morbid stories. Start your own thread.
by joanro on 05 December 2018 - 20:12
By the way, horses are NOT trained to fall.. the only way to get them to FALL is by pulling their legs out from under them. The rider pulled the horse's head to the side, because the fall is so violent, the horse doesn't know when it's coming and can't save themselves. So stop with your bs. Even juping horses fall without being able to save themselves.

Your's is not the conversation for this thread!!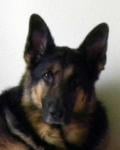 by Mindhunt on 06 December 2018 - 19:12
Gee Joanro, didn't mean to pee in your wheaties. Peace out and you are the example of what my Oma would call a Besserwisser.......oh never mind.

by joanro on 08 January 2019 - 13:01
Sure you did. You double down on your crappola, like in other threads years ago. It figures though. Mindhunt, didn't you tell us you have a doctorate in psychology or some other mindbend works (where the student is drawn to the studies for their own mental issues) ?

I made the mistake of posting my pictures from a lifetime of work at mrdarcy's request, and you managed to turn it into a Pe ta advertisement.



by mrdarcy on 09 January 2019 - 11:01
Joanro, slight exaggeration there, don't see where Mindhunt said anything negative about your pictures/training unless I missed it.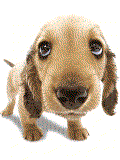 by GSD Admin on 09 January 2019 - 16:01
She can sure dish it out but taking is the hard part for her.
---
---
Contact information
Disclaimer
Privacy Statement
Copyright Information
Terms of Service
Cookie policy
↑ Back to top