by Val Hi King Timber on 03 February 2020 - 19:02
Thank you for your replies. I'm also now thinking it was hermangiocarcoma at this point. I had a friend text me that she had a friend in another state who also lost her German Shepherd yesterday who's name was coincidentally Kimber. They did a necropsy and found this to be the case.
by alamaia on 03 February 2020 - 21:02
i also lost mine girl Athena, 20 days ago , she was 5 years old perfect health, dont know what happen she poop blood, i took her to the vet and she died of cardiac arrest 4 hour later, no idea what cause it. hurt as a MF. But i don't belive this is the end of them tho, im spiritualist and i belive even animals have some kind of soul, i dont know if you can find confort in this.

by Hundmutter on 04 February 2020 - 04:02
Sorry for your loss. I don't think I can add any useful suggestions to what has already been posted. My first thought on reading your OP was Heart ? but I quite agree it could have easily been haemangiosarcoma - I lost one lad to this when he was around 8 and it came on suddenly and unexpectedly, and if I hadn't taken him to the vet and had him pts he would have been dead within a couple of hours anyway, so much blood swimming in his gut. Dreadful thing. There are some genetic studies going on now which indicate this may be inheritable, in which case maybe we can breed away from it and save ourselves this heartache, in time.

Are you having a p.m./ autopsy done ?
by Val Hi King Timber on 04 February 2020 - 16:02
We decided against the necropsy to figure out his actual cause of death. Trying to make arrangements for the cremation was hard enough in and of itself. We took him to get cremated today. 😭

I also believe that dogs have spirits and I pray his stays with me until the end of my time.
by alamaia on 04 February 2020 - 21:02
I took the body of my girl at the vet, and buried her at the yard. it was night raining as hell not the easyest moment, i didint did the autopsy, and i accept it was her time and nothing will change that. will miss that girl forever, the pain will get better just hold on.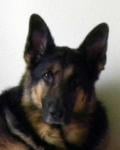 by Mindhunt on 05 February 2020 - 13:02
I am sorry about your sudden loss. How horrible and heart breaking. Hugs
Only thing I can think of is cardiac (heart) related, your description sounds like a friend of mine's description of his dog before it died suddenly. He had a necropsy done, and they discovered a congenital defect in his dog's heart.
by astrovan2487 on 05 February 2020 - 18:02
Hemangiosarcoma is the first thing that comes to mind. I know a lot of people who have had GSDs, some not even that old, die from it suddenly, a lot that are 8-9. Most don't notice any symptoms until its very close to the end. If it is any consolation I have heard that it is not a really painful way to go. Also, if it is hemangiosarcoma, even if you'd had it diagnosed months ago there really isn't anything effective that you could do about it. I'm really sorry about Timber, definitely not an easy thing to deal with.
by Val Hi King Timber on 06 February 2020 - 15:02
Thank you all!!!
I do feel grateful that he didn't feel any pain. I'm certain he didn't. I think in his last moments he was scared knowing something was happening to him but also took comfort knowing we were right there holding him. I think there was more mental trauma for us then there ever was for him. I struggle to keep those memories at bay because it's so very painful. Just grateful he wasn't alone.
His loss is profound and we are missing him so badly.
---
---
Contact information
Disclaimer
Privacy Statement
Copyright Information
Terms of Service
Cookie policy
↑ Back to top