by GK1 on 01 April 2020 - 09:04
Many (most?) topics have been covered already; pdb is still 'popular' with me as a reference tool, either for previous discussions on a topic I'm interested in like health, feeding or bloodlines.

Years ago, I would classify most dog forums as places where retirees, under-employed, empty nesters and folks with some extra time on their hands converse or sell their wares. Even tho now I too am retired, the better use of my free time is still to research/filter/read more so than post/respond. And of course disconnect altogether and learn directly from the source - my dogs.

Will be interesting to see the impact this year of the pandemic will have on the global dog trade. I'm thinking the trend will go toward more localization, compartmentalization, less international shipping.
by ValK on 01 April 2020 - 12:04
pet owning by gen x and millennials pretty much can be explained by the shift of human interest from live creatures to gadgets.

by Hundmutter on 01 April 2020 - 13:04
ValK : ;-) all those pics of cute puppies ad crazy cats.
by Tamera Kennels on 01 April 2020 - 15:04
It has become extremely difficult to accurately enter a new pedigree. When trying to enter sire and dam, it will only recognize a couple of my dogs names. I have to enter as a new dog with just their name and no pedigree even though they already exist in the database. Very annoying and I am looking for an alternative pedigree site even though I have many years of dogs on here
by GSDHeritage on 01 April 2020 - 16:04
Contacts
To contact an admin for help in creating, changing, adding to or deleting a pedigree and/or photo. Anything pedigree or related to a pedigree please contact
GSDHeritage - all breeds - Speciality is AKC dogs and White Shepherds/ Berger Blanc Suisse
Fantom76 - all breeds - Speciality is foreign registered dogs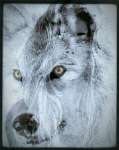 by Fantom76 on 01 April 2020 - 16:04
Most of the problem in entering sire and dam is from apostrophes, periods, dashes in a name. What you have to learn to do is enter only part of the name.
1. Register your new dog.
2. DO not enter the sire.or dam on this screen. Click on Create and Continue, and then move down to Parents section.
3. Or if dog already is n PDB, edit the dog and move down to Parents section
In Select new mother section, type in part of the name omitting special characters or words like vom, or von
For example: Dam is Grauenhof Phoenix V Hey-Jude
Only type in Grauenhof Phoenix and click on Search Mother
PDB will find every female dog with that in its name
If PDB does not find any, then you type in the full name, and click on Search Mother again,
Since PDB will now not find that name it will return a white box that contains the name that you are looking for
Click on the white box that contains the correct dams name of Grauenhof Phoenix V Hey-Jude
A large white box will pop up that says
Set "Grauenhof Phoenix V Hey-Jude" as new parent?
Click on OK
A box will pop up "Success Parent changed"
If it is not the right name, click on cancel. This will stop you from creating a new dog.
Do the same for the sire.
Move to the top get out of edit by clicking on the dog's name and click on refresh screen and validate that your entries are correct.
There are other ways to search for and enter parents, but this way works best for names with special characters
If you still have a problem, contact GSDHeritage or Fantom76
---
---
Contact information
Disclaimer
Privacy Statement
Copyright Information
Terms of Service
Cookie policy
↑ Back to top