by Hundmutter on 23 August 2020 - 03:08
Well I don't know about 'winning' ASL lines Rik but there are certainly occasional imports from here to America ( e.g. 2 in the last quarter according to KC records); and believe me these are not dogs from kennels known for producing Germanic / International type.
by Marilyn on 23 August 2020 - 05:08
Hi Tig

My dog's pedigree is not on here and has been sent to the GSD Breed Council Health Co-ordinator. None of his lines go back to Hendrawens Quadrille of Eveley or the other well noted British fitters or carriers.
As I have said, I am not going to start a witch hunt on pure assumption or speculation. It could do so much damage to an innocent breeders and and innocent dogs reputation. A breeder can only do so much to ensure their puppies are not ticking time bombs. That is why it is imperative that the information is lodged somewhere safe. We definitely do need some sort of register though, where breeders and pet owners can go to and check before making that final decision to mate 2 dogs or purchase a puppy, for whatever reason. Breeders can only use the information that is available to them but it does rely on all breeders having the integrity to admit that they have had a problem with a litter from a certain mating. It should also be made available the reason why certain dogs or bitches have suddenly disappeared from the public eye and been pulled from the gene pool.


by Rik on 23 August 2020 - 11:08
thanks hund, I was just curious if there has been a move away from every line to Lance and what dogs it was, especially if there were known issues like this.

I know a few have used GSL with some success.

by Sunsilver on 23 August 2020 - 13:08
Hund, would be very interesting in seeing pedigrees for those dogs!
PM me if you don't want to go public with them!

The only GSD type I know from England other than the German SL type is the Alsatian type, so I am really curious to see these dogs you are talking about.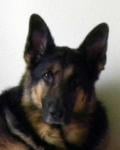 by Mindhunt on 23 August 2020 - 13:08
My first GSD, Loki of Derenhaus, had degenerative myelopathy, his sire developed epilepsy when he turned 8 years old (both neuro diseases). My current 6-year-old has perianal fistulas (autoimmune disease) and comes from a good line out of Germany. Apparently a couple of littermates developed mild cases or so the rumor goes. I recently had a friend breed her amazing male to a female who was positive as a carrier for DM. Another bred her Excellent OFA male to a female with FAIR OFAs. Why? Having had dogs with congenital diseases (DM, PF, Dysplasia) and a current pup with PF, I am genuinely annoyed that people willingly breed dogs who are even carriers or suspected carriers (i.e. coming from a litter or parent with PF or Epilepsy). I have good friends that have switched to Dutch Shepherds or Malinois because of the propensity for breeding with known issues in German Shepherds. AKC and UKC have allowed dogs to be breed who have Championship lines AND hereditary diseases. For shame.

by Sunsilver on 23 August 2020 - 13:08
Mindhunt, you're just talking about the German dogs. There are people on this board who could tell you some pretty mind-boggling things about the American show dogs, as well! I saved a post from one of them that was made many years ago:
Louise Penery:

Look, we still have problems--a few generations back. (1) Eko-lan's Paladen was said to have had a "pancreas problem". His daughter (mine--Covy-Tucker Hill's Talisman) produced EPI and TGS. (2) When I bred a granddaughter of Lakeside's Gilligan's Island to the Paladen son, Doppelt Tay's Hawkeye, I had EPI and TGS in the same litter. (3) Langenau's Watson died very young--either bloat or, more likely, TGS. Watson was the sire of the Hawkeye litter from a Gilligan daughter (also had EPI)--this litter had EPI and TGS. (4) CH Karagin's Crusader--died young of toxic gut syndrome. (5) Impulse--I has a son of his, Dolmar's Legacy, with fragmented coronoid process and definite symptoms of EPI when I returned him to his breeder. Legacy produced EPI and FCP. (6) Lakeside's Gilligan's Island died at the age of 3--reportedly from bloat. His younger brother Harrigan died young--everyone said bloat--owner said "renal failure". Harrigan's sister Halo was the dam of my Paladen daughter, Covy-Tucker Hill's Talisman (sister to Turtle Dove--dam of Durango, who was the sire of Crusader) who produced EPI and TGS. (7) Zeto and Zeus of Fran-Jo (owned by Jimmy Moses)--my Zeus son, Covy's Pan of Tucker Hill (out of Covy's Felita of Tucker Hill--a Gilligan daughter) had OCD of the shoulder and produced TGS. A linebreeding on Pan produced EPI and TGS. Isn't this brief statement damning enough?


by Western Rider on 23 August 2020 - 15:08
I miss Louise but you could count on her to name names.
This whole post everyone dances around saying a name. Two pages and except for the last post only one dog's name was used
So how can people be on the lookout for Epilepsy or other inherited problems if they have no names to watch for?

by Sunsilver on 23 August 2020 - 15:08
Because everyone gets their drawers in a knot if you mention THEIR dogs, and they threaten to sue...
That's why I didn't hesitate to post this - these dogs are so far back, no one's going to really care. And we don't have many ASL people on the board, anyway.
I switched to another unrecognized breed for awhile, as health problems, temperament, etc. were being very carefully tracked by the breed founder.
The American white GSD has a very comprehensive breed information database, btw.

by BRADY BEE on 23 August 2020 - 16:08
👍 @ Western Rider

by Koots on 23 August 2020 - 16:08
If one wants to know the ped of my dog with epilepsy, all one has to do is look at my login 'koots' and the pedigrees created by me. The oldest one is the dog I mentioned in this thread. People who 'know' on here would realize why I haven't linked his ped on this thread (although I have on another similar one, btw). 😉
The dog in the pool in my avatar is my epileptic guy - enjoying life.
---
---
Contact information
Disclaimer
Privacy Statement
Copyright Information
Terms of Service
Cookie policy
↑ Back to top