by Smokin Joe on 07 October 2020 - 10:10
I've always known in humans this is the case (thank God I found one!), but in GSD's it also seems to be the case! So many more males to choose from. Why is this? Perhaps good females are not sold, because they are valuable from a breeding perspective? Are more males produced than females? Anyway, whoever has a nice young bitch they are will to part with, contact me!
by ThatWasClose on 07 October 2020 - 23:10
Cul de chapeau much?


by BlackMalinois on 08 October 2020 - 08:10

Yes good GSD females are very hard to find....IMO , sometimes in a litter are 5 good females and
in an other litter nadaaaa, must be some luck today proven bloodlines in many generation will help,
Proven not comercial breeders will help, but today there are not many good GSD breeders , and even today
most breeders focus only on males very stupid they will never learn...
by joanro on 08 October 2020 - 10:10
Blackmal, I agree with you. The males are focused on more than females. I have seen that no matter how revered the males are in the gsd community, without an outstanding female, the male is not going to reproduce
himself.

As for the question are more males than females produced.....that is a matter of chance. I had two litters, with totally different sires and dams, one had 8 females and one male, the other litter was 7 females and one male.

by Rik on 08 October 2020 - 11:10
not directed at you at all Smokin, but I'm thinking that people with the ability/experience to recognize a good female GSD (or male GSD) are more rare than the good female GSD.

also very seldom do female GSD get the exposure that the top male GSDs get.
jmo,
Rik
edit to add, I'm talking about dogs, not humans. If the OP meant to imply other than that I do not find that acceptable. went back and made clear as possible.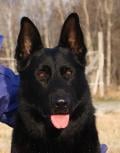 by arra on 08 October 2020 - 12:10
I think overall it is a 50/50 in litter's females and males, of course I also had litters with only females or only males, but not very often this happen.
Most sport competitor's and police wants males. I always keep the female lines, only that way you are a breeder really, to build a breeding program on your female lines. The males we can buy or choose outside males to go and breed to. And yes I think it is not easy to find a good young female for sale that has all the health clearances and training/titles and all the qualities unless you pay a lot of money. Because such female will stay in their breeding program to produce good puppies in the future. That is how I see it as a breeder of working GSD.
by joanro on 08 October 2020 - 13:10
arra: I always keep the female lines, only that way you are a breeder really, to build a breeding program on your female lines.


I absolutely agree with you, here.
Early this year, I sent two pups to England for police k9 prospects ( the first American bred gsd for this purpose)
Their plan for the female is to use her for producing more k9 prospects, as well as training new k9 handlers.
That litter was forth generation on mother line from my breedings. Without high quality females that the breeder knows for multiple generations, there is no program, no predictability of what is produced.


by Sunsilver on 08 October 2020 - 14:10
[totally agrees with Joan]

Here's what Koos Hassing (Tiekerhook Kennels) was told by Alfred Hahn (Busecker Schloss):

Alfred Hahn, from the kennel "vom Busecker Schloss, was very clear. He told me: "Koos, if you want to improve the German Shepherd Dog, and I know that is your goal, then consider this for the future. One can improve the anatomy of the German Shepherd in only a few generations. But to improve, temperament, character, and the necessary working abilities take much much longer. Good males will always be around, so focus on the quality of your brood bitches!" In my opinion, the pure truth, spoken by a very experienced breeder and Körmeister.
by joanro on 08 October 2020 - 14:10
Sunni, excellent quote!
by bladeedge on 08 October 2020 - 15:10
Joan good to see you back 😉
Matt
---
---
Contact information
Disclaimer
Privacy Statement
Copyright Information
Terms of Service
Cookie policy
↑ Back to top