by Koots on 16 April 2020 - 21:04
by ZweiGSD on 16 April 2020 - 21:04
Info from the website just in case she doesn't see this thread to answer.
https://www.virtuedogfood.com/never-any
We adhere to the strictest safety standards throughout the entire process and never cut corners where the safety of our dogs is concerned. We chose Canada as our manufacturing site due to more stringent quality control protocols. This is not the most economical way to produce dog food, but it's the right way.

by Koots on 16 April 2020 - 21:04
That makes sense, and was my suspicion, thanks Zwei. I read about the food a while ago, but forgot about that or missed it.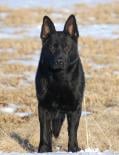 by Jenni78 on 16 April 2020 - 23:04
I'm not hard to reach; you could have just emailed or called or chatted on the website. I might not have noticed it here had someone not emailed me about it.

Certainly, being from the US, it is not terribly convenient nor very economical to make food near the tippy top of Canada, lol, but there is plenty of mediocre dog food made in the US (other countries, too). Most foods are all the same- using the same ingredient sourcing, same factories, co-packers, etc. And, unfortunately, the US doesn't have the best or most stringent quality control protocols for kibble- check out recall histories if you doubt this. I'm in the Midwest, not far from several pet food manufacturers I could have contracted with, but they couldn't provide what I wanted.



by Koots on 17 April 2020 - 00:04
But look at it this way - discussion of your food is good, right? You confirmed what I thought, especially in light of the recent 'bad dog food' comparison of Acana made in Canada vs USA.
by NatureDragon on 17 April 2020 - 01:04
Carna4 is good food too, and it's made in canada
With all food you need to do the salt divider test so you actually get the ingredients you are paying for.
https://www.dogsnaturallymagazine.com/the-salt-divider/



by Argohof on 19 April 2020 - 13:04
I have had my kennel (mostly Czech-line (read NON-STOP🤣) ) on it about a month, very happy with everything, especially low stool volume, my 12.5 year old is not happy about her ration reduction though... 3/4 c twice daily.
I switched because I felt better knowing an actual dog breeder formulated it to be good for the dogs- period!

by Koots on 20 April 2020 - 14:04
Thanks for the feedback Argohof - glad it's working for your dogs.

I would like to see a non-chicken formulation in future as one of my dogs does better without chicken in his diet.

by Dawulf on 20 April 2020 - 19:04
From what I understand, there is a Salmon version in the pipeline. :D
My current dog eats raw, however my parents have their GSD on it and have had wonderful results. Better stool, better coat, and it is combatting his metabolism well. They are happy customers.
by Koach on 21 April 2020 - 06:04
Hey Koots thanks for starting this thread. Coincidence I was looking at this food online only a few days. Had seen it mentioned somewhere. Always trying to find the best possible food for the dog as we do for ourselves. Jenn can we Canadians have product shipped directly from your Canadian manufacturer? Thanks.

G.
---
---
Contact information
Disclaimer
Privacy Statement
Copyright Information
Terms of Service
Cookie policy
↑ Back to top